Happy New Year!
Thank you for stopping by today. I hope the new year has treated you well so far. It's been quieter behind my red door the last 2 weeks than it has been for months, and in between Lili time and my folks, I have enjoyed some down time ~ a day here and there when I could stay home alone and I so enjoy those days!!  They are all too rare it seems. I have been cleaning and organizing and purging, and reading! And while I haven't caught up with all my favorite blogs, I am trying.
Not too long ago I stopped my blogging friend Marlene's blog ~ Stitchin by the Lake and her post was titled A Few of My Favorite Things. You can read it by clicking ~here~.  She invited her readers to do one of their own Favorite Things post, and I decided it was a great idea. 
Now you already know about my favorite people and my favorite decorating items, so this will be a bit different. I'll start with my favorite movie of all time ~ because a song from it inspired Marlene's post.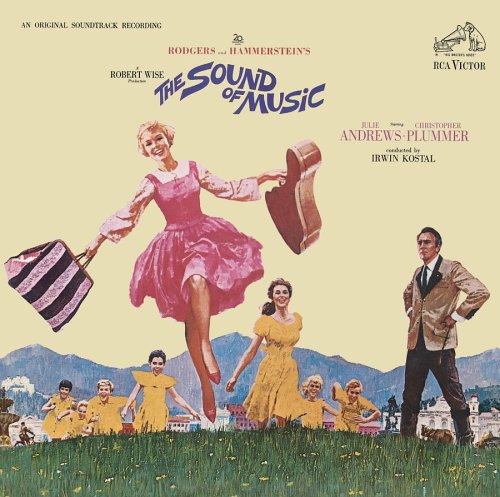 I saw this movie when I was 10 years old with my dad. It was a weekday and it was just my dad and me. Because my dad delivered mail on Saturdays, he had a weekday off. I  had severely sprained my wrist at school the day before and he thought it would cheer me up. I was mesmerized and loved every second of it!! My parents bought the original sound track record and I played it over and over and over. Anytime I saw it was on TV, I just had to watch it. I still do. My Favorite Things is one of my favorite songs too. And while I love the version 'Maria'  first sang in the movie as the children gathered in her bed during a thunderstorm, my heart swells each time I hear it the second time when the children are missing her and they start to sing it and then they hear her voice in the background and realize she has returned to them. That makes me tear up every time I watch the movie. You can watch that scene ~here~.
~**~**~**~**~**~**~
There is nothing like a cheerful daisy to make me smile! When I was getting married in 1975, it was a good thing that David's former boss was a close family friend who just happened to own a floral shop in addition to the pharmacy because when I said I wanted daisies, not roses, everyone said I was nuts! But not Ronnie… he made sure I got my daisies. In fact my wedding party colors came from the colors in daisies! I consented to a few roses mixed in with the daisies in my bouquet, but everything else was daisies.
My bridesmaids carried baskets of daisies.  
Even the cake was covered in daisies.
The first perennial flowers I ever planted when we bought our first home were daisies. I brought that plant with me when we moved here in 1986. They still bloom every summer.
~**~**~**~**~**~**~
Speaking of weddings, I went with my daughter Jen and her best friend while Jen tried on wedding dresses today. This was the second time we have done this and she may have found "the" dress but at the least, she really narrowed down her options. Big mistake going on a Saturday though. Despite an appointment, the gal helping us was helping someone else too and the shop was a mad house so we want to go back on a weekday and try another shop as well. It was still a lot of fun despite the crowds and I can't wait to go again!
~**~**~**~**~**~**~
While many people dream of cruises or laying on white sand beaches as the perfect vacation,  I love a good road trip with my honey exploring more of this beautiful country!  Growing up I was blessed to see much of this country on the many camping trips my parents took with me and my other 3 siblings ~ most notably our 6 week cross country camping trip. It was a trip of a lifetime and I will always be grateful my parents made the sacrifices and did the hard work it took for that journey. Now Mr. Red Door was never interested in camping, but we have had some wonderful vacations driving through many states. My all time favorite road trip ever was one we took in the fall of 2005. I had quit my job at the preschool so it was the first time in many years that we could travel for more than a long weekend during my favorite season ~ fall. I had turned 50 and we celebrated our 30th anniversary that year and instead of a cruise or exotic location vacation, I researched areas to explore during foliage season. We took 3 road trips that fall but the one to Michigan's Upper Peninsula (the U.P.) was my favorite! I love boat rides on lakes, train rides through the wilderness, waterfalls and foliage and the UP had plenty!
We did so many cool things, but my favorite part was when we crossed the border from Sault Ste. Marie, MI into Sault Ste. Marie, Ontario and took a ride on the Agawa Canyon Tour Train. This one-day wilderness excursion will takes you114 miles north of Sault Ste. Marie, Ontario over towering trestles, alongside pristine northern lakes and rivers and through the awesome granite rock formations and vast mixed forests of the Canadian Shield.
Of course the foliage was amazing!! You know I love me some foliage!
We also took a ride on this boat…
..through the locks separating Lake Huron and Lake Superior. It was fascinating!
Back in the U.P. another fun day was on the The Toonerville Trolley and Riverboat Tour. It was a 6 1/2 Hour Train and Riverboat Tour to Tahquamenon Falls. We rode  5 1/2 miles through the habitat of bear, deer and many other animals and birds.
The train brings passengers to the Tahquamenon River where a Riverboat waits to take you on a 21 mile narrated cruise along the pristine river to the rapids 1/2 mile above the Upper Tahquamenon Falls. The Captain gives commentary on river history, Indian lore, and points out any wildlife that is spotted along the way. The foliage that day was gorgeous too!
Then we departed the boat for a hike through virgin forest to view the mighty Falls. Passengers then board the boat for the return trip to the waiting train and the ride back to Soo Junction.
Another day we took a glass bottomed boat ride on Lake Superior. Can you see the anchor?
The Alger Underwater Preserve is located in Lake Superior near the diver-friendly city of Munising in the Upper Peninsula of Michigan. This area of Lake Superior's shoreline includes the Pictured Rocks National Lakeshore, the site of many shipwrecks.
Preserved by the cold fresh water of Lake Superior, these shipwrecks provide some of the finest sport diving in the Midwest. Each year, wrecks appear and disappear as the currents of Lake Superior cover and uncover them. The total number of shipwrecks in the Alger Preserve is unknown.
Sandstone cliffs, beaches, sand dunes, waterfalls, lakes, forest, and shoreline encompass the Pictured Rocks National Lakeshore. The Lakeshore hugs the Lake Superior shoreline for more than 40 miles. Lake Superior is the largest, deepest, coldest, and most pristine of all the Great Lakes.
Getting to Michigan's Upper Peninsula via the Mackinac Bridge was a sight to behold!!  It is currently the third longest suspension bridge in the world. The total length  is 26,372 feet.
On our way back home to New England, after crossing the bridge back into the lower peninsula we stayed in the picturesque town of Mackinaw City.
From the balcony of our hotel room, we could see the bridge…
and we stood outside as the sun set
and watched as the lights came on and it was a fitting ending to our trip to the UP.
Thanks for indulging me as I got out the CD of pics from that trip. It's on my bucket list to go back.
~**~**~**~**~**~**~
Now you know I love my decaf Chai tea for a chilly afternoon or evening but I need coffee in the morning and this is my new love ~Timothy's German Chocolate Cake K-cups
It's all in the layering ~ first chocolate, followed by coconut, caramel and finally, more chocolate. What's not to like??!! My only complaint is that it does not come in decaf!
~**~**~**~**~**~**~
I could probably make a list a mile long of why I love my iPad. From it's almost instant on, and it's portability and all the APPs for educational games and books Lili and I use together, I love how it is so convenient and easy to use. It's a small luxury that has some practical uses as well.
~**~**~**~**~**~**~
And while I do sometimes use the eBook library on my Ipad, I love books.
A house without books is like room without windows. ~ Horace Mann
Books are the quietest and most constant of friends; they are the most accessible and wisest of counselors, and the most patient of teachers.  ~Charles W. Eliot
~**~**~**~**~**~**~
Because I am always looking for ways to better myself, I enjoy inspirational life lessons ~ be it a quote or story or a list such as this one that has been going around in emails lately. These are from the Dalai Lama~
Take into account that great love and great achievements involve great risk.

When you lose, don't lose the lesson.

Follow the three R's:
-  Respect for self,
-  Respect for others and
-  Responsibility for all your actions.

Remember that not getting what you want is sometimes a wonderful stroke of luck.

Learn the rules so you know how to break them properly.

Don't let a little dispute injure a great relationship.

When you realize you've made a mistake, take immediate steps to correct it.

Spend some time alone every day.

Open your arms to change, but don't let go of your values.

Remember that silence is sometimes the best answer.

Live a good, honorable life. Then when you get older and
think back, you'll be able to enjoy it a second time.

A loving atmosphere in your home is the foundation for your life.

In disagreements with loved ones, deal only with the current situation. Don't bring up the past.

Share your knowledge. It is a way to achieve immortality.

Be gentle with the earth.

Once a year, go someplace you've never been before.

Remember that the best relationship is one in which your love for each other exceeds your need for each other.

Judge your success by what you had to give up in order to get it.

If you want others to be happy, practice compassion.

If you want to be happy, practice compassion.
Pretty good lessons don't you think?
~**~**~**~**~**~**~
I think I have kept you long enough so I will end my list with this… my girlfriends! I love my women friends! I am blessed to have women in my life that support me and encourage me and accept me the way I am. I love spending time with each of them!
This must be going around too because several of my friends have sent me this email recently and I thought it was a fun way to end my post.
"A student just finished taking an evening class at Stanford. The last lecture was on the mind-body connection - the relationship between stress and disease. The speaker (head of psychiatry at Stanford) said, among other things, that one of the best things that a man could do for his health is to be married to a woman, whereas for a woman, one of the best things she could do for her health was to nurture her relationships with her girlfriends.
At first everyone laughed, but he was serious.

Women connect with each other differently and provide support systems that help each other to deal with stress and difficult life experiences. Physically this quality "girlfriend time" helps us to create more serotonin - a neurotransmitter that helps combat depression and can create a general feeling of well being. Women share feelings whereas men often form relationships around activities. They rarely sit down with a buddy and talk about how they feel about certain things or how their personal lives are going. Jobs? Yes. Sports? Yes. Cars? Yes. Fishing, hunting, golf? Yes. But their feelings? Rarely.

Women do it all of the time. We share from our souls with our sisters/mothers, and evidently that is very good for our health. He said that spending time with a friend is just as important to our general health as jogging or working out at a gym. There's a tendency to think that when we are "exercising" we are doing something good for our bodies, but when we are hanging out with friends, we are wasting our time and should be more productively engaged ~ not true. In fact, he said that failure to create and maintain quality personal relationships with other humans is as dangerous to our physical health as smoking!
So every time you hang out to schmooze with a gal pal, just pat yourself on the back and congratulate yourself for doing something good for your health! We are indeed very, very lucky. Sooooo let's toast to our friendship with our girlfriends. Evidently it's very good for our health."
Here's to all my girlfriends, young and old, near and far! Thanks for being so good for me!
Thanks so much for stopping by ~ I appreciate your visit!
Prim blessings and hugs, Linda