In just one week from now hubby and I will be cleaning up from our Swedish Christmas Eve with his side of the family and we will be getting things lined up for Christmas Day here with my family. How can that be? It seems like just yesterday I was waiting for the heat to let  up and the leaves to turn! Then again, when I think of all that had happened in the last few months, it seems like eons ago.
So are you ready for your celebrations? For many many years Mr. Red Door saved two weeks vacation to use at Christmas but this year, the project he is working on needs him so he will only have one day off before and one day after Christmas. I will miss having him around to help with all the last minute errands and prep but our daughter Jen will take his place on our annual run to the store for Swedish cheese, sausage, breads and pastry this week. And I did tell him that after golf tomorrow, we are having a marathon wrapping session. Once those packages are under the tree, things will feel a lot more under control Behind My Red Door.
There won't be any big presents exchanged between hubby and I this year. He truly never wants anything and anything he needed I got him for his birthday last week. On the other hand, I already brought home some goodies for me!  Back in the early fall I decided I needed a chair to relax in when I finally DO relax in the evenings. Hubby has a sofa in his office and if we want to watch TV together, that is where we park ourselves or we can go downstairs to Lili's playroom AKA the family room.  But if I don't want to watch what he likes (as is often the case) I come into my office. I had an old wing chair in here but it was anything but comfy. So one day when we were out prim/antique shopping, I went to Spencer Furniture store in Spencer to their Primitive Shop. Spencer Furniture is a family owned store and while I had never ordered anything large there before, I have purchased many smalls from them over the years starting way back when they had a Yield House franchise in the part of the store that now holds their Primitive Shop. Everyone has always been extremely warm, friendly and helpful and this visit was no different. They happen to be the closest store that carries Johnston Benchworks furniture and I thought I would get myself a J B recliner. But truth be told, none of them were the right fit. The sales person, Gayle,  was very helpful and she got out some catalogs for me to look at. We plopped ourselves down on some chairs in one corner and after awhile it occurred to me that the chair I was sitting in was a WONDERFUL fit for me. I loved the height, depth of the seat, the width and the comfort overall. Because I had a particular JB fabric in mind, Gayle tried to help me find one of their chairs in that size. But they didn't make one. I tried a bunch of different JB chairs and while I loved them all, this chair needed to be one of pure comfort for me. So I decided to order one like the one I was sitting in but in a fabric more suited to my colonial inspired taste. And I got the ottoman to go with it as well. It is made by Lancer, from Star, NC. Gayle said it would take 6-8 weeks to come in but a month later it was in and ready to be delivered to my home. And it is just perfect for me. I have NEVER in my adult life fallen asleep in a chair. N.E.V.E.R. In fact, I find it hard to fall asleep in my own bed!! But I have fallen asleep in this chair several times so needless to say, I am absolutely thrilled with it! I hope this winter I will find time in the evenings to get back to making my penny rugs and needle punch now that I have a comfy seat!
This past week, I received a thank you card from Gayle and a coupon for future purchases. You can bet if I ever need upholstered pieces in the future (or if hubby agrees to to a total reorganizing of the kitchen so I can take home the awesome kitchen island they have) I will definitely give this local family owned store my business.
Oh ~ sorry! You wanted to see my chair did you?? Well here it is!! I LOVE LOVE LOVE the fabric!! I didn't want the same fabric I see on chairs all over the internet and in homes I shoot and yet I definitely wanted something with a colonial flair and I think this fits the bill. It is black with dark red, mustard and sage green accents.  It also could move into the living room should I ever need it too.
Isn't it purdy??  I think so,  but even more important, it is comfy!
~**~**~**~**~**~
Another new to me piece is this big trunk. 
A short while back, my dear friend Laurie invited Audrey, her mom Connie and me  for a Christmas lunch and to do some antique shopping. I wish I had my camera with me that day because Laurie's home looked wonderful all decorated for Christmas. And she made the most delicious and adorable individual pot pies for us!! We all felt so special! After filling our tummies, we headed out and one of the stops we made was A Bee's Buzz in Foster, RI. Click ~here~ for the website. It is in the same building where the former Things Made Wonderful store used to be. From their website~
"Unlike your typical antique mall or craft store, we want to combine the best of both worlds to bring our guests a unique blend of handcrafted wares and vintage finds.
Anyone with a home to decorate, a unique gift to buy, or a collection to add to will enjoy browsing this friendly marketplace!"
Laurie has a booth on the second the floor and she knew the store was being stocked for a sale the next day so it was a great day to shop there. I have been looking for a bigger trunk to put under the domed trunk I bought a while back and boy did I find one and the price was right!
This is about as rustic or prim as I want to go, but the size is great for storage and the price was right! We couldn't fit it in my car that day, but Laurie and her hubby very graciously went back and got it for me the next day. Laurie even offered to drive it up to me so she could see my mural so we did that last week and I made us a nice brunch. Thank you again Laurie (and George) for your kindness in helping me get my trunk home!
That same day we made a stop at Pineapple Rose Primitives in Scituate, RI. They don't have a website but click ~here~ to link to their FB page. Audrey spotted a pretty red cupboard that she thought would look great in my house. And she was right. I did really like it but I knew if it was to come home with me,  it would mean getting rid of something else big and then some serious reorganizing would have to take place because all pieces I own are used to store things. I thought about it and told the owner I would be in touch if I was coming back for it.  When I got home, I went on FB and found a picture of it and it was still calling out to me. During the week I did more thinking about where it could/should go and where all the dishes, glassware and serving pieces would go if I got rid of something else. And I knew even with the seats down, it wouldn't fit in my Murano but having brought home some big pieces herself recently, Audrey knew it would fit in her van and she graciously offered to go back with me to get it if I wanted it. The scrolled front and curved shelves really spoke to me so I decided it would finally replace my 80's jelly cupboard in my dining room.
Audrey and I went back last weekend and it came home with me. And am I ever happy that it did!! It is fairly new piece but it is made from old wood and square head nails and boy is this ever heavy!!
I still need more plates but after I gathered up most of my pewter, I was able to fill it pretty quickly. I am so happy to have one spot to display the pieces I have collected for many years.
A special thank you to Audrey for going all the way back to RI with me. She found some goodies for herself on the trip back so I am happy at that! I am so blessed to have such wonderful friends!
~**~**~**~**~**~**~
I finally got Jill to share her recipes for the Pumpkin Pie in a Mug and Corn Chowder that so many of you have asked for.  Both of these are perfect for the cold winter weather facing us in the months ahead. She wanted me to let you know she she just estimates the amounts in the chowder recipe.
Pumpkin Pie in a Mug
3 cups half and half
3 cups milk
3/4 cup sugar
1 cup pureed pumpkin
2 tablespoons vanilla extract
2 teaspoons pumpkin pie spice
whipped cream
In a large saucepan, combine half and half, milk, and sugar over medium low heat, stirring constantly until sugar is dissolved. Add pumpkin, vanilla, pumpkin pie spice ~ whisking to combine well. Bring to a simmer stirring occasionally, do not boil. Simmer 15- 20 minutes Garnish with whipped cream. Makes 6 servings
 Jill's Corn Chowder
3-4 medium sized potatoes cut into pieces (leave skins on)
1 onion about size of tennis ball cut into pieces
Boil the onion and potato until the potatoes are almost cooked.  Drain water.
Add:  2 cans of cream style corn
         1 can evaporated milk
         1 stick of butter
         Salt and pepper to taste
         dried thyme (about rounded 1/4 tsp.)
         dried basil (about rounded 1/4 tsp.)
         dried marjoram (about rounded 1/4 tsp.)
Stir and simmer on very low heat for about 1/2 hour.  If it looks too thick you can add a little cream or half and half.  It tastes best  if you make it the day before you want to eat it.  It will thicken as it sets in the refrigerator.
~**~**~**~**~**~**~
Last Sunday we had a big family party at my folks house to celebrate my dad's 90th birthday a day early.  Last year I didn't think my folks would be in their home for his birthday but by the grace of God we made it another year. They will be moving to assisted living or a nursing home in the near future, so it was bittersweet in some ways. But with 4 generations in attendance, we made it a special time for my dad.
BTW, another very important and special man shares the same birthday as my dad… Mr. Red Door. How cool is that?
~**~**~**~**~**~**~**~**~
I leave you with my Christmas wish for each of you…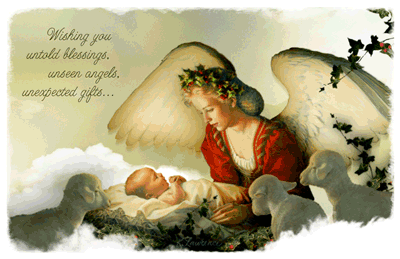 "Wishing you untold blessings, unseen angels. unexpected gifts and all of God's precious love at Christmas and always."
Until next time ~ prim hugs and blessings, Linda