Humm…does it get any better than that?? Family comes first and food always seems to be involved when family is around! And then after all the work of feeding 12 family members ranging in ages from 2 – 84, foliage was the perfect way to unwind! 
On Friday I took Lili to my sister in laws house so she could visit with Mr. Red Door's mom and dad, her great grandparents. When Lili got out of my car, she ran into my MIL's arms and said " I missed you NanaJean!". It could not have been any better! Skyping has really helped her to be familiar with them even though they live so far away.
Lili enjoyed teaching my MIL how to use my iPad.
And she loved playing with their little King Charles Spaniel ~ Andy.
She kept her distance from my FIL at first – his oxygen tubing and tank made her a little nervous but by the end of the visit, she was very comfortable with him.
And then Hubby's entire family(minus one niece who lives in Texas)  came for a sit down dinner here on yesterday and it was wonderful to be all together again. It was almost as much work as Thanksgiving dinner and I had to do some creating rearranging of furniture so we could all sit down together but it was worth it. My MIL and FIL found it was extremely draining for them to have made this trip home. My FIL's disease will continue to progress so we are now certain that this is the last visit they will make home. We are making the most of this time together and will have to get creative in how we can visit them in their home.
My wonderful husband knew how much work I put into making yesterday special for all of us and he decided I needed a day away from housework and taking care of others. So this morning he called me from the golf course to tell me he was cutting his round short and to be ready to take off when he got home. I packed our lunch, grabbed my camera and the new CD's of some of our favorite oldies he made for me, and I was waiting for him when he got home.
With songs like THIS
and THIS
playing, we  headed north and west and explored some back roads of western MA and southern Vermont and we saw exquisite foliage along the way! The sky was blue blue blue with some occasional fluffy white clouds. At first I just sat back and relaxed and enjoyed the scenery.
It didn't take long to start seeing real color! I got my Nikon Coolpix ready, set it on landscape and opened the window and sunroof and began shooting as DH drove along.
One of the neat  features of the camera is the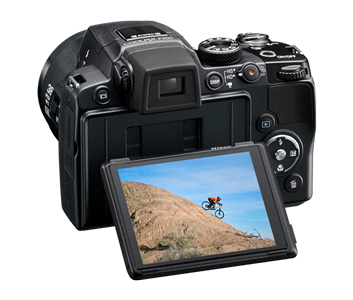 the three-inch, tilting, vari-angle monitor. It flips even further out than this photo shows. This enables you to shoot from unusual angles and tricky vantage points. That was how I could hold the camera out the sunroof and still what I was shooting. SO COOL!
These were all taken from a moving vehicle and are not retouched in anyway. I love this camera! And we really did get to see this beautiful scenery…
as we drove through farmlands and small towns and the mountains too. We saw old barns,
quaint towns,
and drove down steeper than it looks winding mountain roads.
See… I told you they were steep! That sign below says RUNAWAY TRUCK RAMP 1/2 MILE
Sadly we saw many places where the heavy rains after Hurricane Irene caused severe flooding and washed away parts of roads and destroyed buildings and homes. We saw evidence of repairs along the way….
…like these new guardrails.
And lots and lots of color!!
Oh look up ahead… see that red tree….
It's even prettier close-up!
Long drives have always been a way for my DH and I to spend time alone and reconnect. We actually started our married life driving halfway across the country to Kansas City, Missouri and then a few weeks later to New Orleans for his job. We have explored many wonderful places in our great country by car and even when we can fly, we sometimes prefer to drive and enjoy the scenery and our time together. And foliage rides on sunny days with brilliant blue skies are on the top of my list of ways to spend time together in the fall. Today was one of those days!
I have found out that there ain't no surer way to find out whether you like people or hate them than to travel with them.
Mark Twain
~**~**~**~**~**~

And DH decided I had cooked enough this long weekend so he took out for dinner before we headed home. We stopped at the Ninety-Nine restaurant and I had the most yummy salad – just perfect for a fall day!
Apple Cider Chicken Salad
Crisp greens tossed with fresh green apples, glazed pecans, and celery in a creamy apple cider vinaigrette. Topped with grilled chicken, bleu cheese crumbles and brown sugar cinnamon croutons.
It really was fresh, the apple pieces were crisp, the romaine and other lettuce was fresh, and the croutons and dressing out of this world. The pecans were in fact teeny little pieces and not very many, and there weren't many crumbles of blue cheese but there were just enough to be a treat! I would definitely recommend this!
And I recommend taking the time to see more of this wonderful country we live in! Spend your vacation dollars right here and explore some place new. Whether you drive the back roads of your own state or explore another area of the country, the good ol USA has so much to offer!  I am so thankful that I live in this beautiful country and that I have been able to see so much of it over my lifetime – both with my parents and my hubby.
~**~**~**~**~**~
Thanks so much for stopping by!
Until next time ~ warm hugs and prim blessings, Linda