Happy October!!
My favorite month of the year has finally arrived! I love the cooler days and chilly nights that require piles of blankets on the bed. I love the the warm fall colors of the landscape and the way the sun reflects off the trees and warms the inside of our home as well. I love the bountiful harvest of apples, pumpkins, and winter squashes and spices we use when cooking with them. I love making soups and stews and roasts and heartier foods. I love replacing my sandals with my clogs and socks and grabbing a warm sweater as I head out the door. The only thing I don't love about fall is that it is just too darn short! I want it to last all year long.
I got a much needed chance to escape this past weekend with my dear friends Bonnie and Audrey. What started as a trip to scout a home, turned into a day in my favorite part of the country – the Lakes region and White Mountains of NH. I have been blessed to have traveled ALL over this great country by car (my favorite way to travel) with my family growing up and with Mr. Red Door as well. I have seen so much of it's wondrous glory- it's majestic mountains and sweeping plains. The scorching desert and cooling lakes. I have been ocean to ocean and north to south. But something happens to me when I am in the Lakes and White Mountains. A feeling comes over me like nothing else. As a child my family vacationed there many many summers. When we married 35 years ago, Mr. Red Door offered to take me to several exotic tropical destinations, but I chose instead to introduce him to my beloved lakes and mountains of NH and we travel there every year for at least a day trip and often longer.
I wish I had time to tell you and show everything we saw and did that gloriously cool yet sunny fall day but I only have time for some quick highlights. My dad is home and doing well but I have been and will remain busy helping my folks with a myriad of medical appointments/meetings and whatever else they need. Tomorrow while Lili is still here, my friend Jill arrives from SC and she is staying with me for 3 days so I have been cleaning and cooking for her visit. The daybed has been made up for sleeping and as soon as I post this, I will finish the last few touches to turn my office into her guest room. And then on Thursday Mr. Red Doors folks arrive from SC as well for their very last ever visit home. When they return to SC, my FIL will start using oxygen 24/7 and be restricted in his activities as his lung disease progresses. While Mr. Red Door and I will make the trip south twice a year, it won't be as easy for our kids to do that so we are determined to fit in as much family time as possible. It is bittersweet indeed. Because I will be busy busy busy for days to come, I decided to do my best and get this post made now before any more time passes.
Our first stop was in Wolfeboro at the General Wolfe. I didn't get any pics inside but you can see the outside was so inviting! We had a delightful chat with the shopkeeper and I found a great yellow ware bowl. For hours and directions and a peek inside click ~HERE~.
From there we continued on to one of my favorite stops in NH – Apple Hill. Suzanne (a member of the APP blog) and her DH David had done a wonderful job on their period home and with the store. We have met several times so I was excited that Bonnie and Audrey got to meet her as well. You just have to see the inside of the home – she has pics posted on her website ~here~! Here is a little eye candy from the website to tempt you!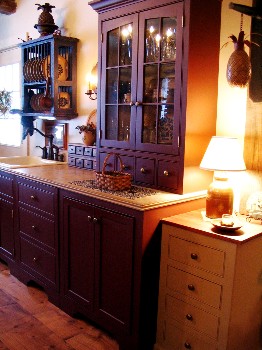 Enjoy my photo's of the property and shop!!
I wonder what Bonnie is looking at??
Ah ha! This explains it!
If you are interested, you can read more about Wolfeboro and Apple Hill from my post last fall by clicking ~HERE~.
After Apple Hill, we went on our merry way making a few short stops….
until we arrived here… Stone House Country in Ossippe. This was our first visit to this circa 1848 English stone cottage. Donna had invited the gals from APP to come see the property sometime and when we walked in, she was surprised to see us and very eager to show us around. Donna and Larry are dedicated to preserving this wonderful piece of history and the shoppe is also their home! Just driving up to it, it draws you in!
Inside the shoppe there is something for everyone and none of us left empty handed!
All though out the shop you can see the original architecture like this fireplace …
Oops – that is not architecture- Hi Bonnie I see you found a furry friend!
Here is one of the original exterior stone walls.
Look at this gorgeous door and surround!
Donna was kind enough to show us upstairs as well…
They must have made people pretty short back then…
Love this old interior door too!
And if living in this piece of history wasn't enough, look at this view from the side yard!
My White Mountains!!
Donna and Larry made us feel very welcome and it was a delight to share in their enthusiasm for their home and shoppe. To learn more about this historic property and directions to this wonderful shoppe you can click ~here~!
If you are in the lakes region, do stop into Apple Hill and Stone House Country and tell them the gals from APP sent you! You won't be sorry !!!
~**~**~**~**~**~**~**~
I will leave you with this photo I snapped out our bedroom window the other evening. This untouched photo and the ones above were taken with my son's camera that I am borrowing. I have yet to figure out all it's setting but I am having fun with it. Now if I only had more time to play…
Until next time,
prim blessings, Grammee Linda